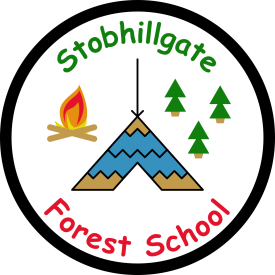 What is Forest School?
Forest School is an inspirational process that offers all learners regular opportunities to achieve and develop confidence and self-esteem through hands-on learning experiences in a natural setting.
The Forest School curriculum is child-directed and play-based.  Forest School allows learners the time and space to develop their interests, skills and understanding through practical, hands-on experiences. 
During a Forest School session, children have the freedom to explore, play, build, create, imagine and use their senses to experience the outdoor environment and engage with their peers. 
These processes help and facilitate more than knowledge-gathering, it helps the learners develop their social, emotional, spiritual physical and intellectual skills.  Forest School creates a safe, non-judgemental nurturing environment for learners to try new things and take risks. 
The Forest School approach to risk means that learners constantly expand on their own abilities by solving real-life issues, building self-belief and resilience. There are risks in everything we do and we grow by overcoming them. Forest School therefore, assists learners become healthy, resilient, creative and independent.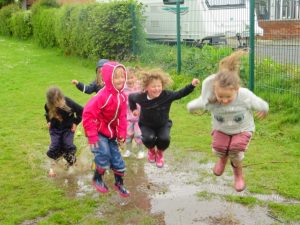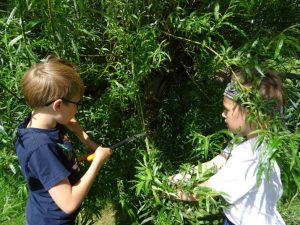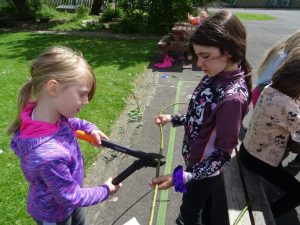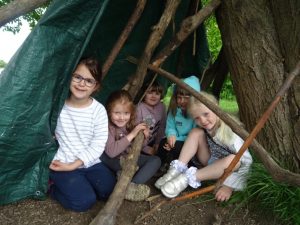 Forest School Aims
At Stobhillgate First School we aim for all children to: 
Have an opportunity to develop, to learn and to enjoy themselves

Have a safe and non-threatening environment in which to take risks, make choices and initiate learning

Help understand, appreciate and care for the natural environment

Have ways of developing practical life skills in an outdoor environment

Help develop self-esteem, confidence and a positive outlook to learning through the completion of small, achievable tasks

Help develop social skills and team work 

Be independent, self-motivated and considerate

Build self-esteem, confidence, independence, self-control and interpersonal skills
The six key principles that shape and manage the Forest School ethos are:  
Principle 1: Forest School is a long-term process of frequent and regular sessions in a woodland or natural environment, rather than a one-off visit.  Planning, adaptation, observations and reviewing are integral elements of Forest School.
Principle 2: Forest School takes place in a woodland or natural wooded environment to support the development of a relationship between the learner and the natural world.
Principle 3: Forest School aims to promote the holistic development of all those involved, fostering resilient, confident, independent and creative learners.
Principle 4: Forest School offers learners the opportunity to take supported risks appropriate to the environment and to themselves.
Principle 5: Forest School is run by qualified Forest School practitioners who continuously maintain and develop their professional practice.
Principle 6: Forest School uses a range of learner-centred processes to create a community for development and learning.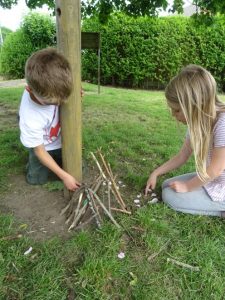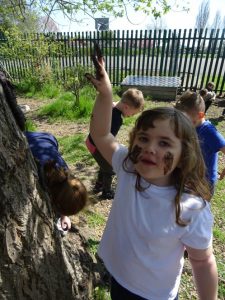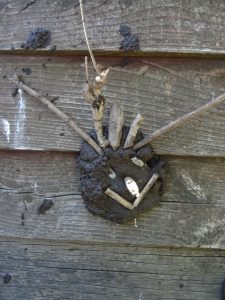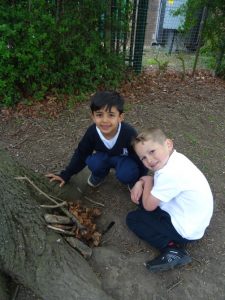 Click HERE for more information on Forest School progression.